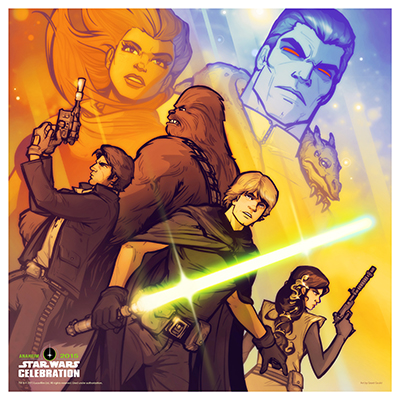 As of today 12:30pm PST, my limited edition art print for Star Wars Celebration, entitled "The Legend of Thrawn," is available for pre-order! Here's the link:
darkinkart.com/star-wars/celebration-legend-of-thrawn-grant-gould.html
The print is 12"x12" in size, costs only $20, and is limited to 250 signed & numbered pieces. All pre-orders must be made by April 10, 2015, and prints must be picked up in person at my artist table at Star Wars Celebration in Anaheim.
If you have any questions about my print, or the show, sketches, etc., feel free to give me a shout at grantgoboom@gmail.com, and put something like "SW Celebration" in the subject line. I've got a busy couple weeks ahead of me, but I'll try to respond to emails as soon as I can. :) Thanks!!
APRIL 29: CELEBRATION UPDATE
I just wanted to thank everyone who came to the show in Anaheim (and everyone who pre-ordered a print). It was an amazing four days and an incredible experience for all involved. THANKS AGAIN!!!